COCKTAILS
HAPPY HOUR
Monday-Friday 3:00-6:00pm
Ask about our signature pickle back!
Scrimshaw
Fort Bragg, CA
Named for the delicate engravings popularized by 19th century seafarers, Scrimshaw is a fresh tasting Pilsner brewed in the finest European tradition using Munich malt and Hallertauer and Tettnang hops. Scrimshaw has a subtle hop character, a crisp, clean palate and a dry finish.

SPIRITS
NEW!

Whiskey & Spirits

To all of our whiskey aficionados out there, welcome! Lovingly and painstakingly,
we have selected and happily tasted some of the most compelling, artisan bourbons,
ryes and pure American whiskeys for your enjoyment.

By doing so, we hope to introduce you (and your palette!) to spirits you aren't familiar with.
Don't worry, there are plenty of recognizable spirits for you to fall back on but,
make sure to explore our collection with one of our selected flights or house-made barrel aged cocktails!

Sit back, relax, sip, savor, & enjoy! Cheers!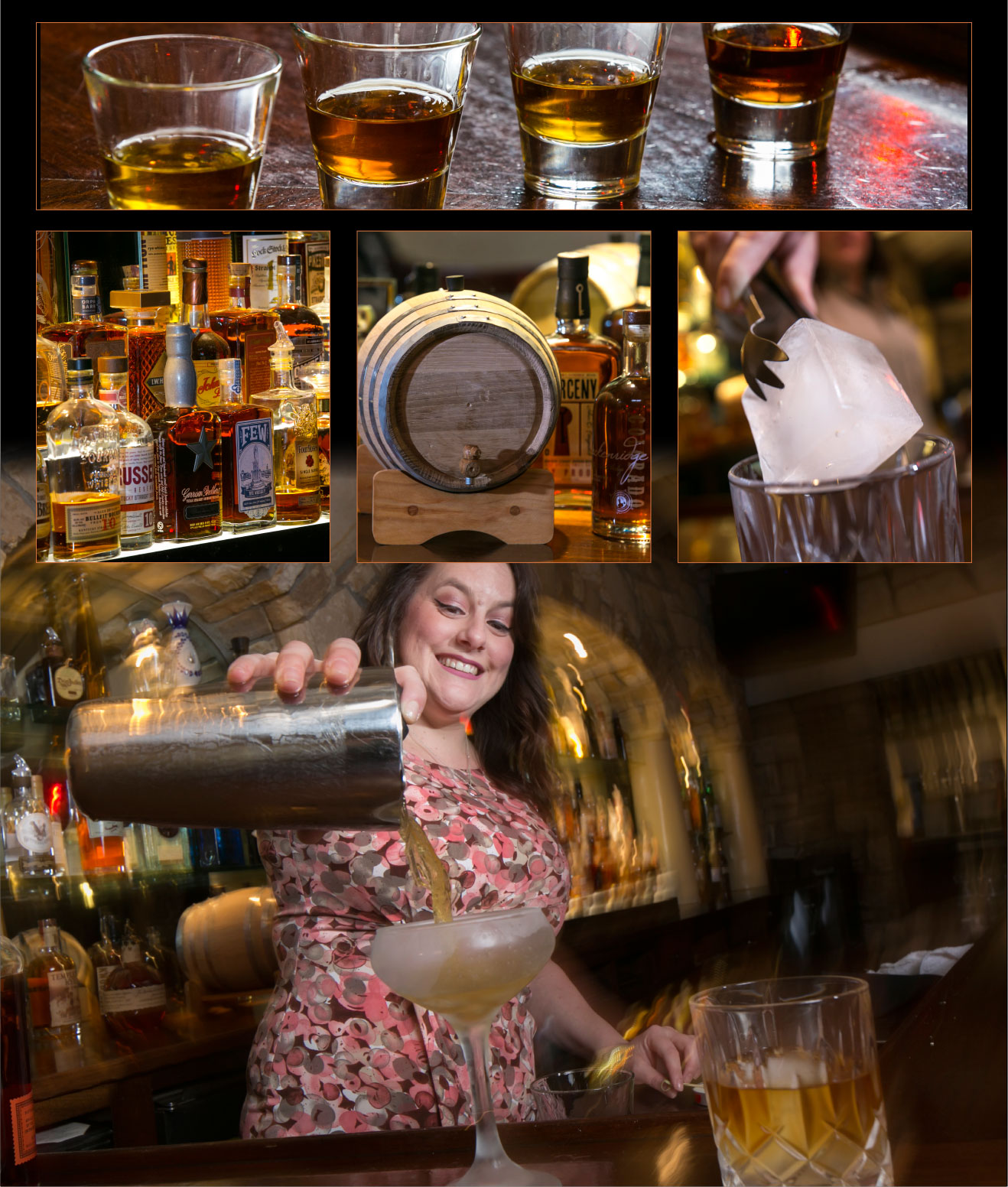 SPIRITS SELECTION
In addition to our selection of more expected offerings, we have curated a deep, thought-provoking
and constantly evolving selection of spirits (new gins, tequilas, whiskies, etc.) from around the world.
Stop by and set a spell.
FLIGHTS
3/4 OZ POURS – BOURBON AND RYE — $14
Sazerac Rye, Michter's Rye, Angel's Envy, Eagle Rare Small Batch/Single Barrel $18 Bib & Tucker, Belle Meade, Blanton's, Duke
COLLEEN'S FAVORITES — $17
Corbin Cash Merced Rye, Buffalo Trace, Semper Fi, Basil Hayden's
HOUSE BARREL-AGED COCKTAILS
*also available for a flight*
Classic Manhattan – Rye, sweet vermouth, aromatic bitters
Boulevardier – Bourbon, Campari, sweet vermouth
Vieux Carre – Rye, Cognac, sweet vermouth, Benedictine, Peychauds & aromatic bitters
Negroni – Gin, sweet vermouth, Campari

RYE
BULLEIT RYE – 90 PROOF
CORBIN CASH MERCED RYE – 90 PROOF
DICKEL SUPERIOR NO. 12 – 90 PROOF
HIGH WEST "DOUBLE RYE!" – 92 PROOF
HIGH WEST "RENDEZVOUS RYE" – 92 PROOF
LOCK, STOCK, & BARREL 16 YEAR STRAIGHT – 107 PROOF
MICHTERS U.S.*1 SINGLE BARREL STRAIGHT – 103 PROOF
OLD OVERHOLT – 80 PROOF
PENDLETON 1910 – 80 PROOF
PIKESVILLE 6 YEAR STRAIGHT – 110 PROOF
REDEMPTION RYE – 92 PROOF
SAZERAC RYE – 90 PROOF
BOURBON
1792 RIDGEMONT RESERVE – 126 PROOF
ANGEL'S ENVY PORT FINISH – 86.6 PROOF
BELLE MEADE SMALL BATCH SOUR MASH – 90.4 PROOF
BIB & TUCKER SMALL BATCH – 92 PROOF
BLANTON'S 'THE ORIGINAL SINGLE-BARREL BOURBON' – 93 PROOF
BLOOD OATH PACT NO. 2 – 98.6 PROOF
BOOKER'S – 127 PROOF
BUFFALO TRACE – 90 PROOF
BULLEIT – 90 PROOF
BULLEIT 10 YR SMALL BATCH – 91.2 PROOF
CALUMET – 86 PROOF
COLONEL E.H. TAYLOR, JR. SMALL BATCH – 134.5 PROOF
DUKE SMALL BATCH – 88 PROOF
EAGLE RARE – 90 PROOF
FOUR ROSES SINGLE BARREL – 80 PROOF
GERORGE T. STAGG JR. – 134.4 PROOF
HIGH WEST "AMERICAN PRAIRIE" – 92 PROOF
I.W. HARPER 15 YEAR – 86 PROOF
JACK DANIEL'S – 80 PROOF
JEFFERSON'S SMALL BATCH -82 PROOF
JOHNNY DRUM PRIVATE STOCK – 101 PROOF
LARCENY – 92 PROOF
MAKER'S MARK – 90 PROOF
RUSSEL'S RESERVE 10 YR – 90 PROOF
SEMPER FI CORN WHISKEY – 111 PROOF
PINK LIGHTNING MOONSHINE WHISKEY – 80 PROOF
WILD TURKEY 101 – 101 PROOF
WILD TURKEY RARE BREED – BARREL PROOF
Tequila / Mezcal
Don Julio 1942
Don Julio Anejo
Clase Azul Reposado
Campeon
Fortaleza Reposado
Deleon Reposado
Delirio (mezcal)
Xicaru (mezcal)
GIN
St. George Terroir
Junipero
Barr Hill Honey
No. 3
Nolet
Bummer & Lazarus
Bluecoat
Brooklyn
Hendricks
Saffron
Uncle Vals
Rum
Ron Zacapa XO
Ron Zacapa 23 yr
Grand Reserve Plantation
Zaya
Kirk & Sweetney
Diplomatico
Do Good 3 mile
Scotch
The Dalmore 15 yr
Mortlach
Balvenie 12 yr
Glenfiddich 12 yr
Glenlivet 12 yr
Mcallan 18 yr
Oban 14 yr
Lagavulin 16 yr
Laphroig 10 yr
JW Blue
JW Rye Cask

WINE