We've got space! From small intimate gatherings to a full-on bridal bash, our beautiful property provides endless possibilities. Tarpy's offers intimate patios, private, semi-private dining rooms and courtyards along with an events team specializing in YOU. Custom menus, creative cocktails and wine pairings are all part of what we offer. Below is a brief description of our varied rooms, but please come by and have a look for yourself!
Contact the Events Team at banquet@tarpys.com or 831.655.2999,
Choose a date and let's get started!
T

he Great Outdoors
Front Porch

The beautifully arched front porch overlooks our wishing well and gardens. Heated and semi-private, it can be used in combination with Sarah's Room or the Living Room for an indoor/outdoor party.
Seats 22
Standing reception 20
S

mall is Beautiful
The Tack Room

You guessed it. This room was used as a horseman's equipment area back in the early 1900s. This room is extremely private and the perfect venue for small gatherings or offsite business meetings.
Seats 12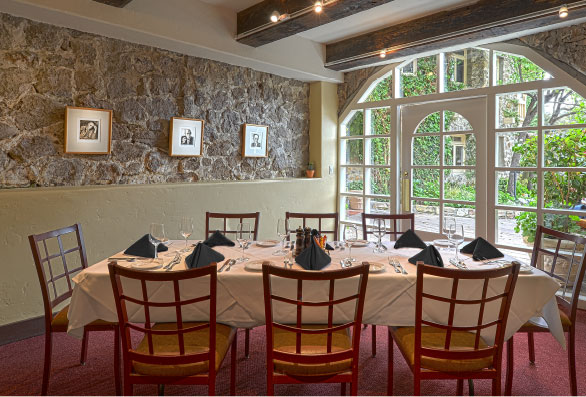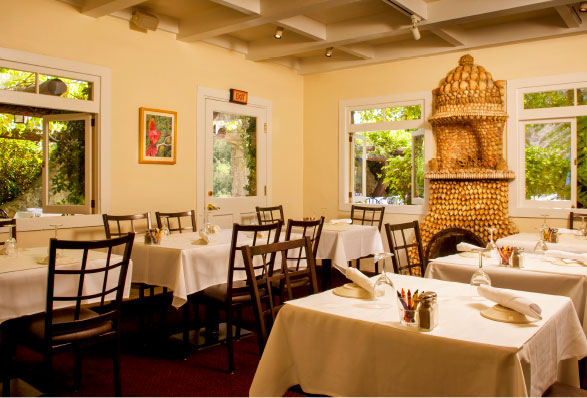 F

amily + Friends
THE SHELL ROOM

Named for its playful shell fireplace, this semi-private room with garden and patio views was created for Opal Ryan by her father in 1917.
Seats 22
Standing reception/Cocktails 15
R

oom with a View
VINTNERS ROOM

With a full on display of some of the region's best wines, this private space features large windows overlooking picturesque gardens. When combined with Sarah's Room, it can accommodate up to 60.
Seats 32
Standing reception/Cocktails 20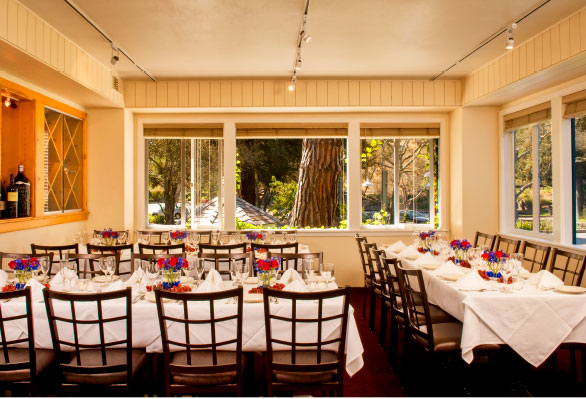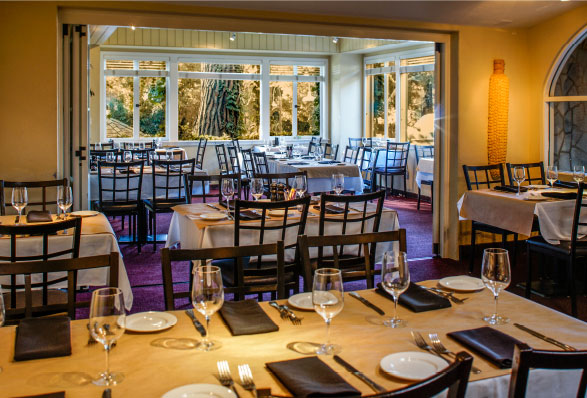 P

ower Lunch
SARAH'S ROOM

Named after Matt Tarpy's unfortunate neighbor Sarah Nicolson, this area is semi-private and can be combined with the Vintner's Room for larger groups.
Seats 26
N

ot just for bookworms
THE LIBRARY

The Library provides a cozy, warm feel with fireplace, inspired art and a private garden patio; essentially everything you need to make your event a hit. The patio is perfect for mingling before an event and the beautiful outdoor terrace can be used for a small ceremony, business meeting or a DJ and dancing.
Seats 80
Standing reception/Cocktails 120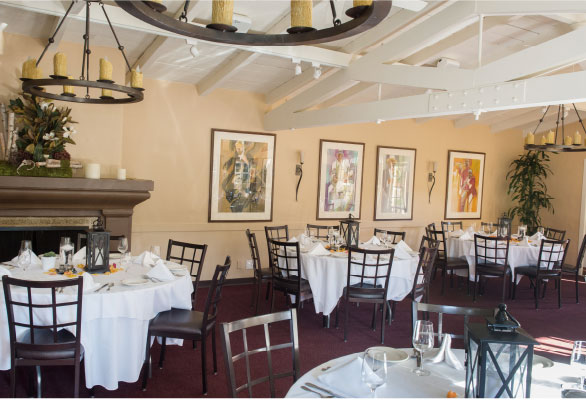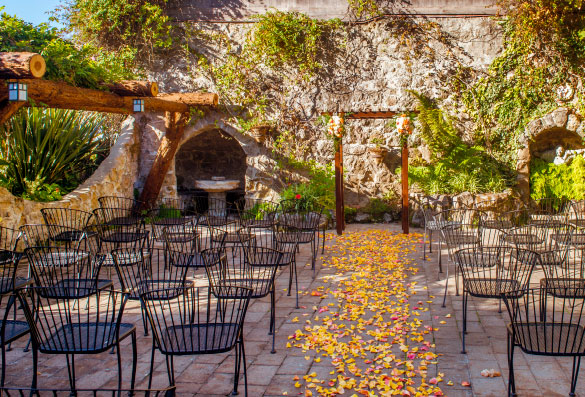 H

opeless Romantic
THE COURTYARD

A top choice for wedding ceremonies and large affairs, lush gardens surround this beautiful space with a distinctly European feel. The Courtyard is available for morning ceremonies between 9:30 and 10:30 a.m. and evenings between 4 and 5 p.m.
Seats 80
Standing reception/Cocktails 100