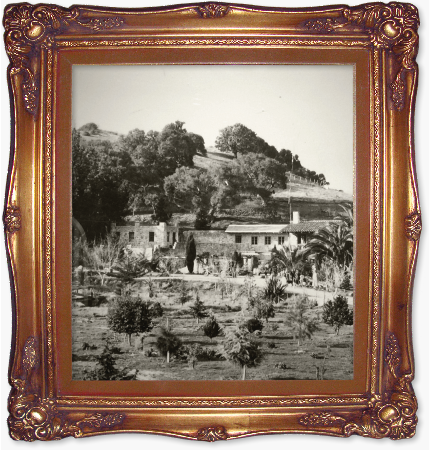 S

toried past. Tasty present.

The name Tarpy comes from Matt Tarpy, an Irish settler who in his day, was a well-liked vigilante living in present-day Watsonville. Tarpy sold a portion of his land to Sarah and Murdock Nicholson and not long after, a dispute ensued over property boundaries. Tarpy's sense of summary justice got the better of him and he shot Sarah "accidentally" nine times! After being found guilty of killing Sarah, an angry mob decided it was Tarpy's turn to pay. He was publicly hanged in an area now known as Tarpy Flats.

The beautiful stone building that is home to our 3.5-acre restaurant was originally part of the Ryan Ranch family homestead. The structure dates back to 1917 when Mr. and Mrs. Charles Ryan bought 454 acres of rolling hills and meadows, then known as Saucito Ranch, and built their dream home. Through the years the building changed hands — Tarpy's Roadhouse opened in 1992.


Colleen Balzano
GENERAL MANAGER
It's no stretch to say that Colleen Balzano's whole adult life has revolved around the restaurant business. Originally from Queens, New York, Colleen's first job as a teenager was in Pennsylvania at a local pizzeria. "From driving the beverage cart, to serving, bartending, and managing a couple of days a week; I found my niche and knew I could make a career out of something I loved." Two years later, with her mom having recently moved to California, Colleen decided to bring her passion for working in the hospitality industry to the town known for its unique coastal cuisines: Monterey. "When I moved to CA, I applied for a server/bartender position at Tarpy's, and then GM, Debbie, asked if I was interested in a Bar Manager position, given my experience." Eight years later, and having been recently promoted to General Manager, Colleen has proven herself to be essential role in the Tarpy's team.

Allison Peach
MANAGER
Having grown up in the Monterey County, Allison Peach found her love for good food, drinks, and everything hospitality. While deciding upon a career path, Allison found herself pursuing a future in nursing. But soon after she decided to follow her passions for the hospitality industry and alter her path to pursue a career in the restaurant business. "I fell in love with the restaurant biz and decided this was where I belong." Allison joined the Tarpy's family in 2018 as a server, working her way up to catering manager, and most recently receiving the title as restaurant manager. Outside of her role at Tarpy's, she enjoys spending time with her family, horseback riding, and camping.

Ivan Guadarrama
EXECUTIVE CHEF
Ivan Guadarrama found his passion for the hospitality industry at an early age while helping with his family's catering business. Working alongside his mother and sister, Ivan found working within a kitchen to be a very rewarding career path. In 2009, he decided to take his culinary skills to one of the most well-established restaurants in the Monterey Bay: Montrio. Shortly after he received the opportunity to expand his knowledge by joining the Tarpy's team. "I am grateful to have had great mentors in the growth of my career at these restaurants who taught me that the love of cooking is loving oneself and loving what you do." Ivan has proven his leadership skills within a kitchen and passion for the culinary arts as Executive Chef of Tarpy's.


Andreas Diaz
SOUS CHEF
Chef Diaz has spent the majority of his career in the Tarpy's kitchen. Beginning in 1993 he has dedicated his career to sourcing local ingredients and crafting exceptional food. His talents shine through on desserts, where his artistry is on full display in items like Chocolate Espresso Bread Pudding and our Old Fashioned Coconut Cake.