The Chef Fisher and Farmer Mark Marino have created a new vision for our organic garden. "In supplying seasonal, organically grown vegetables, herbs, fruit and edible flowers for the restaurant — we want to integrate the goodness that comes from "growing your own" with dining in this historic stone house," says The Chef.
To round out the garden, The Chef has added a brand new bee hive to the property. Once the bees settled in, The Chef plans to cultivate his own honey and is developing honey-themed dishes. The mixology team is also "abuzz," working on new honey-inspired cocktails. Bees can take up to 6 months to get established and begin producing so we're using this time to plan how to best to introduce our newest sweet treasure!
The culinary team is encouraged to frequent the garden, tend to the harvest and get up close and personal with the home-grown goodness that makes our food and cocktails famous. Stop by today and taste the fruits of our labor!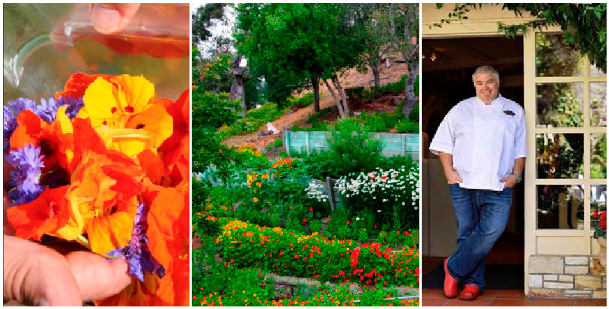 THE CHEF'S EDIBLE GARDEN GOODNESS
HERBS
Basils
Chives
Cilantro
Fennel
Mints
Italian Parsley
Sage
Thymes
VEGGIES
Beans
Chilies
Kale
Mustard Greens
Peppers
Swiss Chard
FLOWERS
Bachelor Buttons
Marigolds
Nasturtium
Roses
Violets
undefined
W

hat's the Buzz?
A FULL GARDEN TO TABLE EXPERIENCE!

Our garden not only supplies seasonal bounty for Tarpy's diners, but is designed to be aesthetically pleasing an educational as well. The Chef and his culinary team select and use ingredients from the garden daily, bringing fresh and local dining to a whole new level! To round out the theme, The Chef has added a brand new bee hive to the property!
Check out The Chef and the bees
in this feature in Carmel Magazine.